Highlights & Features
First Online eHotel Software features
Awesome Built-in Features
Introducing the user friendly & simple, award winning eHotel software that lets your guests reserve hotel room easily, within few clicks.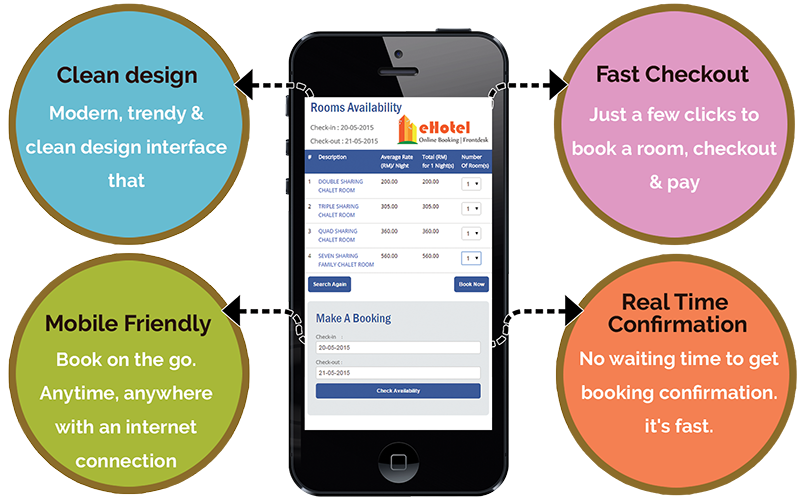 Online Reservation
No additional software or scripts needed to get your Internet reservation system up and running
e-Payment
Reservations by credit card or paypal
Booking Details
Booking details are recorded on the server and emailed direct to you with a copy to the guest, and a copy to the hotel owner
View Sales Report
View reports and sales analysis figures using a web browser or download data into a spreadsheet
Inventory Reports
View guests due to check in between specified dates, guest contact information and inventory reports
Easy Reservation
Easily add reservation taken from telephone call & etc, so availability is always up to date
Easy Update Room's
Update room availability, prices, seasons and other information over the Internet
Specify Room Occupants
Specify minimum & maximum number of occupants per room
Auto Tax Calculation
Auto calculate Sales & service tax/ GST
*some features may available at selected plan/version only
This system can perform essential management tasks quickly and easily with minimal training. A lot of features are self-explanatory.
Room rates based on seasonal, early bird low price concept
This function is specially created to encourage client to secure their booking early and thus enjoy better rates. In return, it helps Hotel management to boost sales & do better occupancy forecast
Credit sales with simple invoicing module.
This function is suitable for hotel that allows guest to stay first and pay by the end of the month (or week)
Supported Payment Gateways