Real Time Online Booking
Increase your direct bookings with the simplest, most reliable booking technology available. Our eHotel smooth few click booking process will increase conversion rates.
Accept Online Payment
You will receive more confirmed reservations & close your website sales immediately, without delay.
Mobile Friendly System
Your guests can check for room availability with their smartphone, anywhere, anytime, with just few simple clicks.
Introducing the user friendly & simple, award winning eHotel software that lets your guests reserve hotel room easily, within few clicks.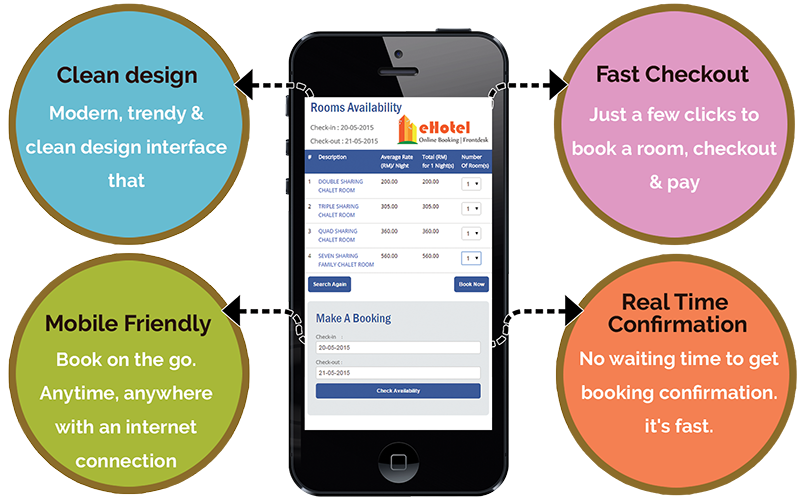 First Online eHotel
One of the winning formula to catapult and bring your sales to the next level is having a reliable platform. A good solid system in place is essential to reach out globally and streamline your backend processes. First Online eHotel offering online management and reservation solutions for small to mid-size of hotel, motel, resort, inn & guest house.
With the rapid growth in the travel industry and the boom in the internet, people all over the world have switched to the internet for all their transactions and services including making hotel or motel room reservations. Thus, all hotels, motels and other accommodation providers must embrace e-commerce and web technology or lose out to the competition!
Switch to First Online eHotel now & stand out from your online competitors!
Simple Reasons Why You Should Subscribe eHotel Software
We do the Setup, You run your Hotel
One-Time Setup fee RM1800 and all required setup will be complete by us, run your hotel like a pro!
No Hidden Charges Required
20GB Cloud Hosting Included, just pay RM100/Month*
No Contract and Commitment
You can Cancel the Subcription anytime. Free Upgrade to latest version when avaliable!
WEB BUSINESS SINCE 1999
With over 10 years of solid experience in web industry, First Online is the preferred candidate when it comes to web solutions. We assist our customers to gain an edge over others with reliable and suitable web solutions that work!
MSC STATUS COMPANY
We have been awarded MSC Status that underlines our strength and performance in providing leading-edge web solutions. We never compromise on the quality and always strive to always deliver the best.
OUR LINE OF BUSINESS
First Online provides other web based solutions such as Web Hosting, Domain Name and SMS Marketing. Visit firstonline.com.my for more info.